Enjoy quality beach time in Madrid
Enjoy quality beach time in Madrid
It's a common saying in Madrid that the only thing the city is lacking is being next to the beach, which is fairly difficult since it's located in the very center of Spain. You'd need to drive or take the train for at least 4 hours to arrive in Valencia or Alicante only to find very very crowded places.
But worry not! Madrid has a solution for everything and that's why there are dozens of alternatives to the beach in the form of spas, artificial beaches and natural pools in which you can enjoy some quality summer beach time.
We've put together a short list of the most famous and recommendable places to enjoy this summer without ever leaving the community of Madrid in your next visit.
Virgen de la Nueva at El Pantano de San Juan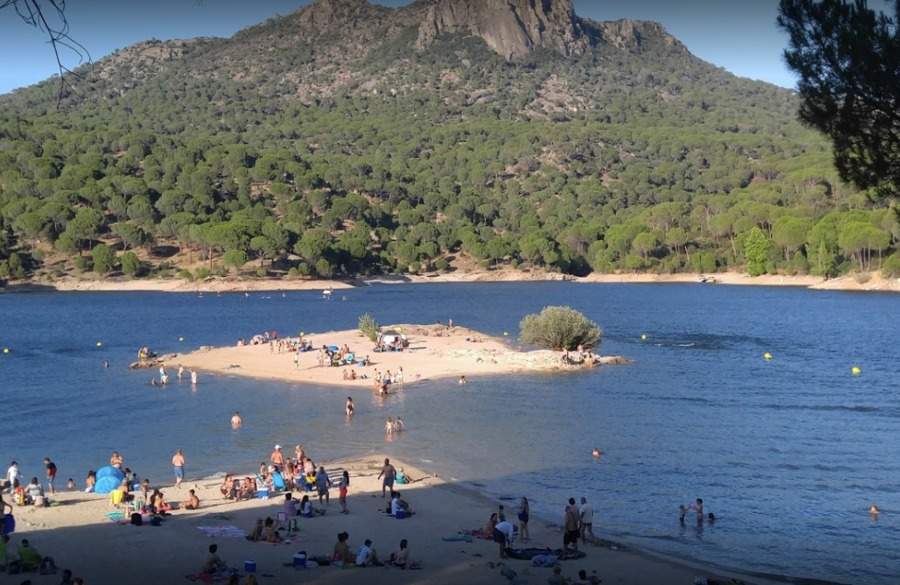 We start off the list with a locals' favorite, San Juan is very very famous, it has about 10km of beach front but this particular zone is relatively new. Virgen de la Nueva just recently acquired the Blue flag classification which marks it as a safe, well-maintained and calm place to take a bath at while feeling marveled at both the views and the feeling of being at the beach right in the middle of the country. It sounds crazy but it's true and it's not far from the city center.
Location: https://goo.gl/maps/Cvpi3YJVohaUoxdV9
Price: Free
Tips: Arrive early to make sure you can park and find a good spot on the beach.
Cercedilla Natural Pools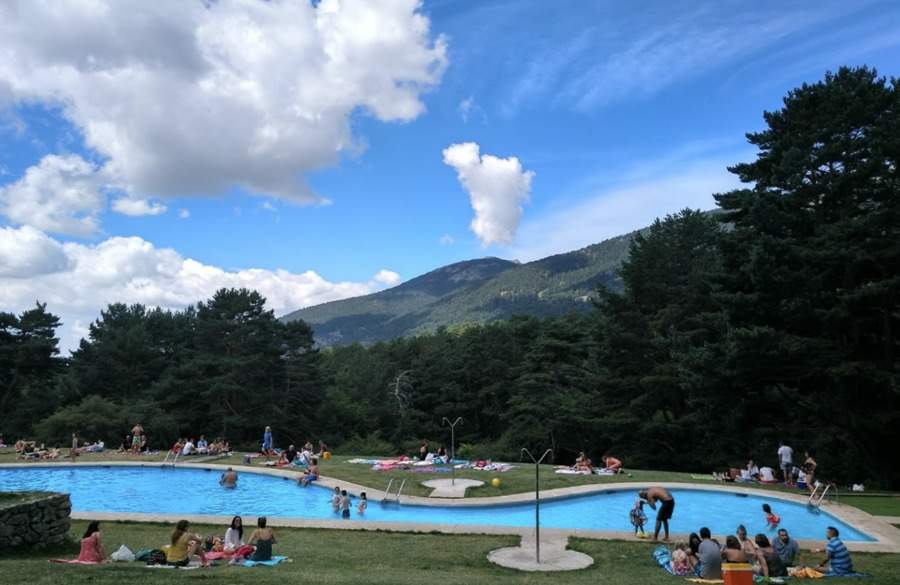 Also known as Las Berceas are an interesting alternative to the beach, the water comes directly from the sources of the Cercedilla area. A crystal clear and very pure water that besides helping you to lower the heat you will be able to enjoy views of the impressive mountains and everything under a very prepared infrastructure in which nothing will be lacking. They will open from June 15 to September. It has 30 hectares of extension and also has picnic areas, changing rooms, showers, toilets, bar, infirmary, lawn area for sunbathing and two large natural pools.
Location: https://goo.gl/maps/aKMooADEJ3kkzgiAA
Price: 9 euros per car, free for people arriving by foot or bus.
Tips: It's better to drive there yourself but be aware of peak hours, check in google maps before going.
Alberche Beach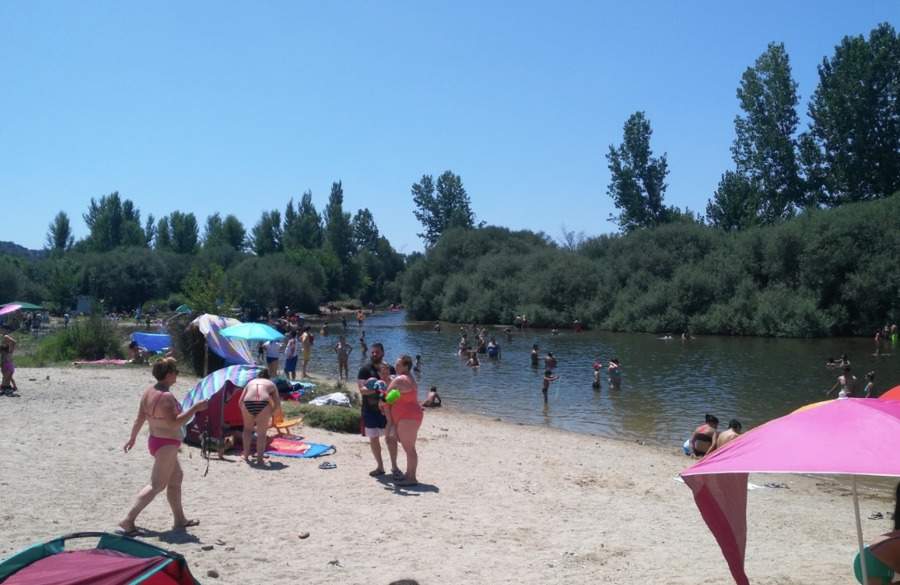 Located less than 50km from the center of Madrid, Alberche beach is undoubtedly the second most famous beach in the community, it is quite extensive and has several bathing areas, there are even areas adapted to go with your pet which is usually extremely hard to find in Spain. It is a fluvial beach in the middle of a beautiful forest, free and ideal to bathe with the children and make a family picnic. There is a good beach area to place umbrellas and towels, and for children to make their castles or pocitos.
Location: https://goo.gl/maps/jKr67KF9ABNcCjTV9
Price: Free
Tips: Being a fluvial beach, it will not have deep waters, so it's pretty safe for kids.
Madrid Río Beach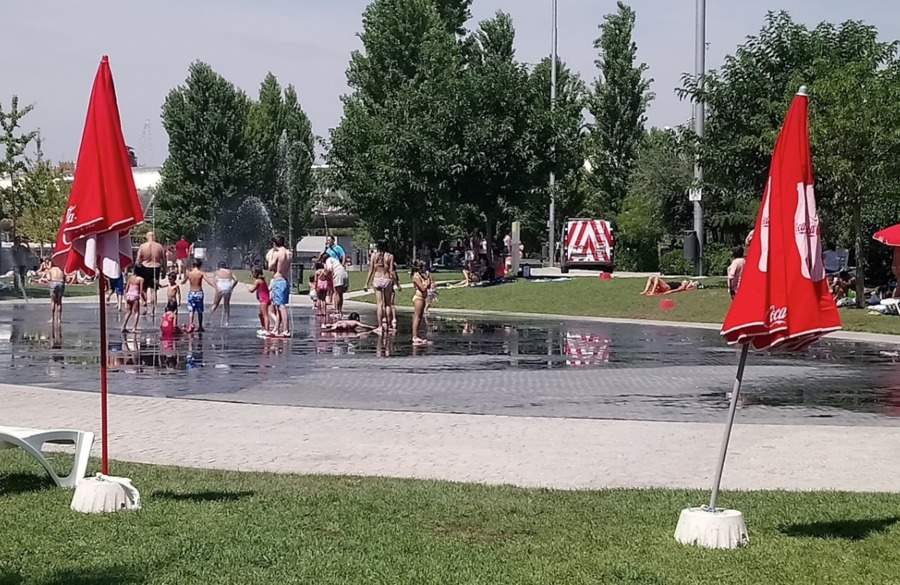 Not all options have to force you to get into the car, drive about 40 minutes and park, so we have included this last alternative to the list. It is a place that has become very popular within the well-known Madrid River Park in the heart of the city. It is an area surrounded by trees, some umbrellas and many activities for children. You can not swim obviously but you will find many sources and jets to calm the heat while sunbathing in a park in Madrid, what else can you ask for?
Location: https://goo.gl/maps/j2RgN5GseBetaat17
Price: Free
Tips: Go with relaxation in mind, pack a book, water and some snacks and find a place in the grass near the trees.
As you can see the options range from the very beach-like experience to more urban alternatives but in all cases you're in Madrid and in Summer, this is a great time to visit the City, you'll see so many options for having tapas, beers and enjoy many hours of sun. Come and enjoy all this while you stay at one of our air-conditioned apartments with parking options.