The ultimate guide for Madrid's rooftops this summer
The ultimate guide for Madrid's rooftops this summer
The Mint Roof, Gran Vía, 10
Located in the centric Vincci Hotel at Gran Via, this charming terrace has the spotless and magic touch of the Interior Designer Jaime Beriestain. It's decorated with colorful and cozy furniture, it has a food truck serving great drinks which you may enjoy while contemplating some the most majestic views of Madrid's city center. It's definitely one of the top places in the city to watch the sun go down after a hectic day.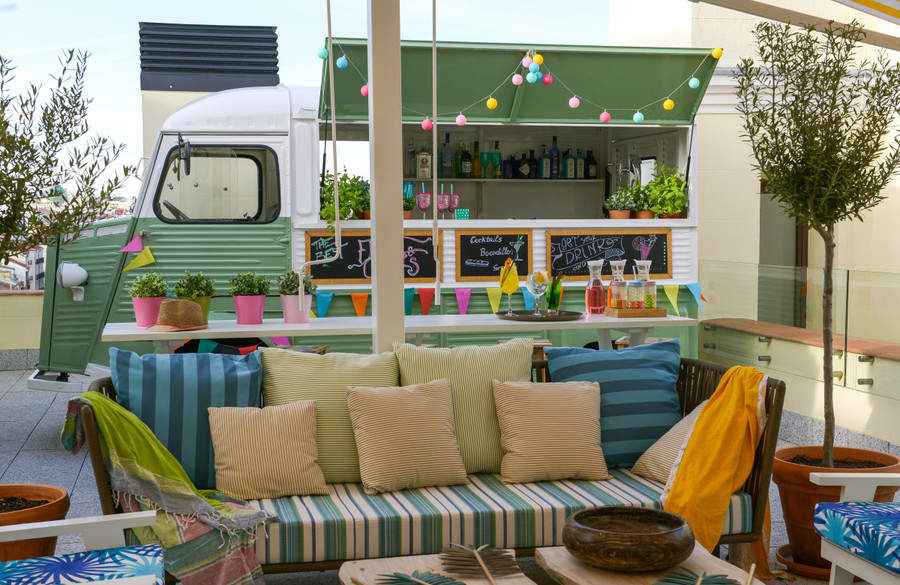 Jardín Secreto de Salvador Bachiller, Calle de la Montera, 37
Nothing in this world beats the sensation of walking into an oasis of peace and tranquility inside such a vibrant city. This place is exactly that, in the midst of one of the most crowded streets in the centric area of Sol and Gran Via, La Calle Montera. This is a garden surrounded by flowers, vintage decoration and with the most romantic and peaceful atmosphere. It's indeed a great place for a snack after a shopping afternoon.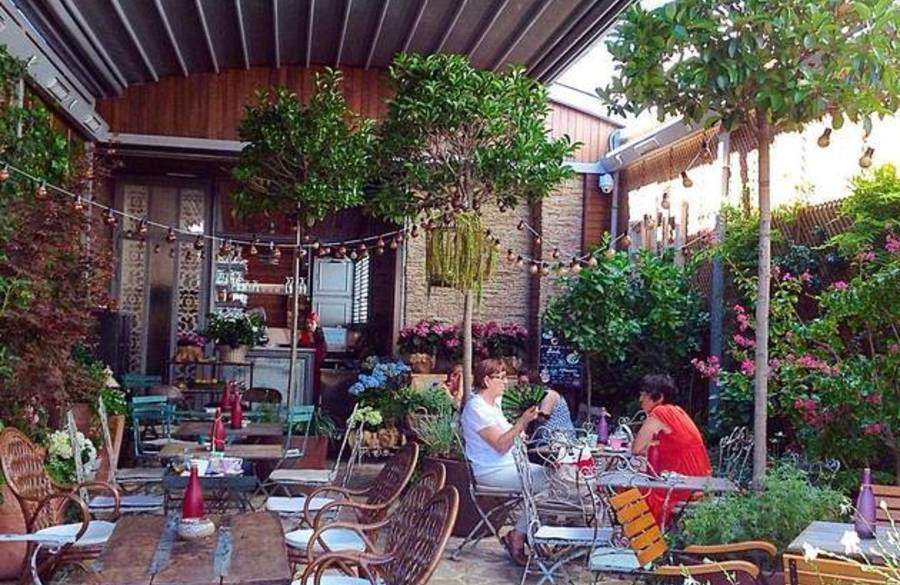 Ginkgo Sky Bar, Plaza de España, 3
Gingko Sky Bar is the coolest place to enjoy summer in Madrid. Why would we say that? The reason is simple: the restaurant, cocktails and a pool! All of it in a rooftop right next to Plaza España. It's sophisticated and trendy at the same time, they have live music every day of the week, and jazz lovers will find their favorite weekday on Wednesday when they hold special jazzy afternoons.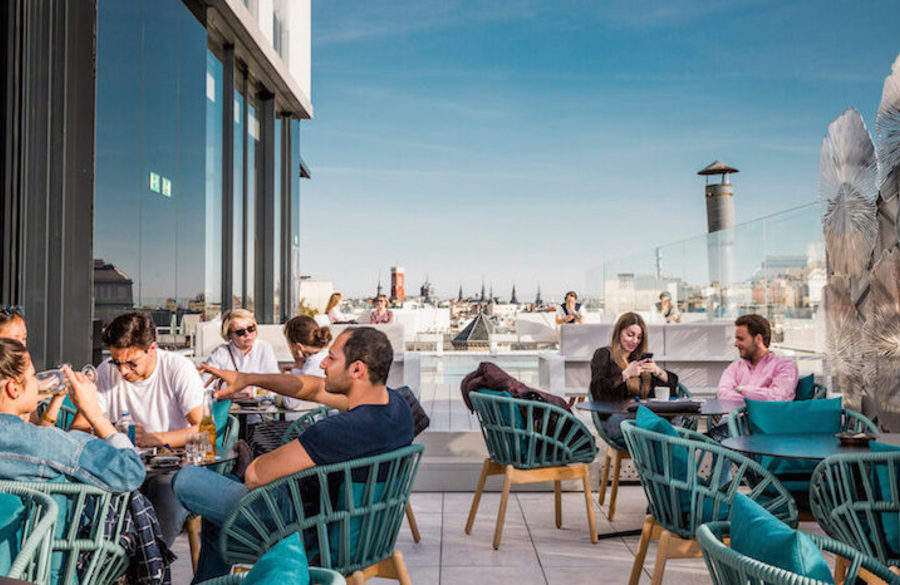 The Hat Rooftop Bar, Calle Imperial, 9
Charming doesn't even cover the definition of this rooftop, it's probably the most lovely place in Madrid in where to enjoy a drink. Located in the historic La Latina neighborhood it's serving very cold beers and amazing views in order to cool down while you wait for the night life of Madrid to begin downstairs. Visit this modern yet charming bar any day of the week, specially for sunset.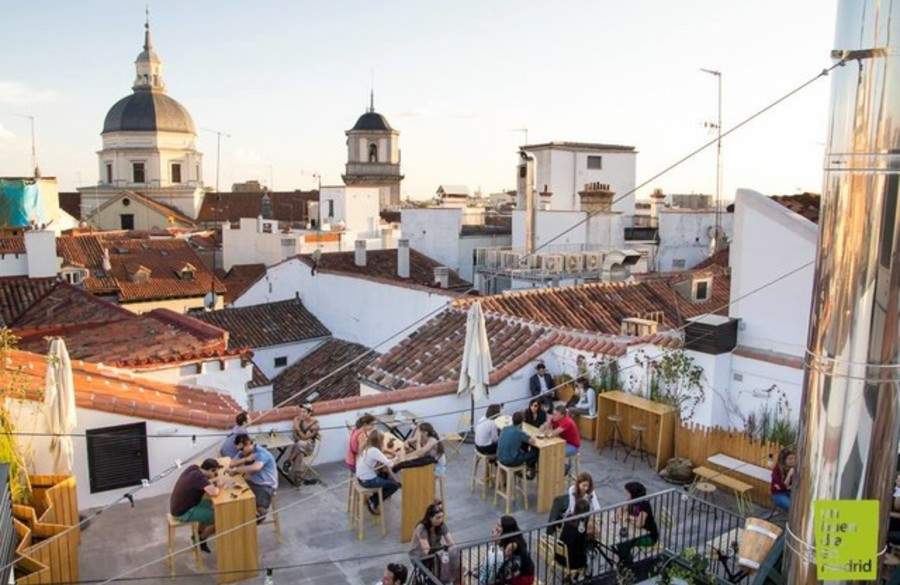 Picalagartos, Gran Vía, 21 (Madrid)
360 views on top of Gran Via, do we need to say something else? You can watch an amazing sunset happening while you enjoy the gastronomic spanish delights prepared by the chef Javier Muñoz.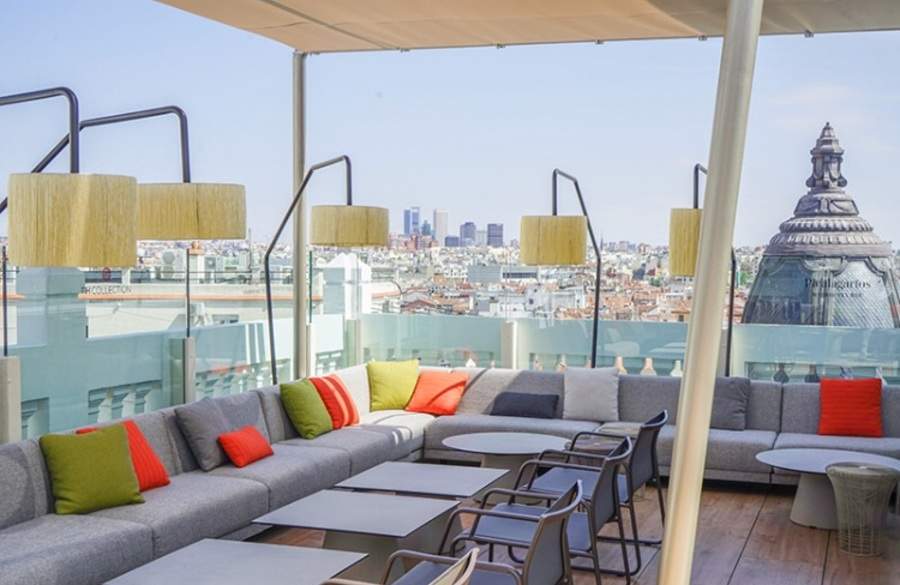 ---
Visiting one of these rooftops in your next stop at Madrid will undoubtedly leave you with an unforgettable memory, just relaxing in a comfy place, taking in the amazing view of the sun setting down on a sea of historical buildings while you enjoy some of the best gastronomic delights the world has to offer. Don't forget to hit our twitter @mad4rent when you visit one of these great places.